Jersey Zoo: A Visitor's Guide
Since it opened in 1959, Jersey Zoo has become one the most visited tourist attractions on the island. A sanctuary for many endangered species, it offers visitors the chance to become acquainted with them in the 32 acres of grounds.
One Of Jersey's Best Loved Attractions, Just 25 Minutes (12 Kilometres) From The Old Court House Inn
After a busy day exploring the sights of Jersey, why not stop by the Old Court House Inn? With 10 comfortable en-suite bedrooms, delicious pub dishes and plenty of award-winning Liberation beer, it is the perfect place to drink, dine or stay.
Visiting Jersey Zoo
Jersey Zoo frequently attracts more than 150,000 visitors per annum, known for being popular with locals and tourists alike.
It is home to more than 130 different species of animals, with a total head count in excess of 1,400.
It was established in 1959 by Gerald Durrell, whose original involvement with animals was to capture them for other zoos. It was his love for animals that encouraged him to create Jersey Zoo, so that the future of endangered animals could be secured, rather than leading them to extinction like many zoos at that time.
In 1964, 5 years after he had founded the zoo, Durrell established the Durrell Wildlife Conservation Trust, in the hope of protecting more exotic species from extinction.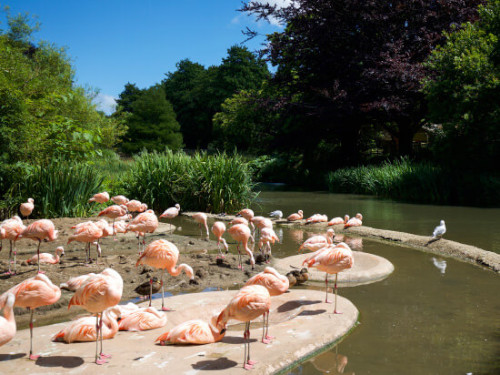 What To See At Jersey Zoo
Home to many reptiles, birds and amphibians, Jersey Zoo makes for a wonderful day out for the whole family.
Among the favourites are turtles, tortoises and meerkats, while the gorillas, bears and monkeys like to let the other animals know who the boss is! Visitors can also enjoy one of the talks from the zoo keepers, where you can get up close and personal with certain animals, while the playground is the perfect place for the little ones to let off some steam while the adults enjoy the delicious refreshments on offer at the on-site cafes.
For those wanting a next-level experience, the zoo offers glamping facilities and also has an on-site hostel, enabling visitors to be at one with nature and the animals!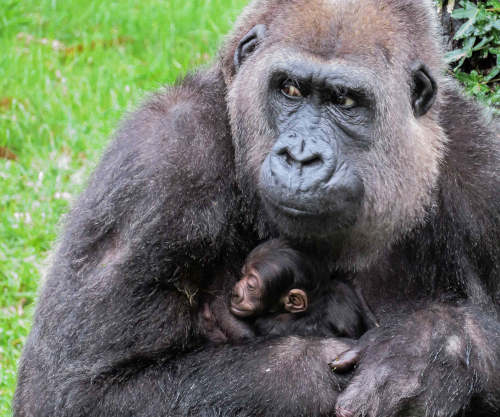 How To Get To Jersey Zoo
Jersey Zoo is located approximately 13 kilometres away from The Old Court House Inn and will take around 20 minutes to reach by car.
Head north-west on Le Boulevard towards Le Quai Bisson and continue onto Le Boulevard. Turn right onto La Neuve Route (A1), then take the 2nd exit at the roundabout onto La Route de la Haule (A1), which merges into Victoria Avenue (A2).
Merge onto Esplanade (A1), turn left onto Peirson Rd and then turn right onto Cheapside. Turn left onto Elizabeth Place (A9), then take the 2nd exit onto Rouge Bouillon (A14) before turning left onto Trinity Road (A8).
Turn left onto Trinity Hill (A8) and continue onto Rue Es Picots (B31), before turning right onto La Profonde Rue (B31) and Jersey Zoo will be on your right after 50 metres.
You can open the route on Google Maps here.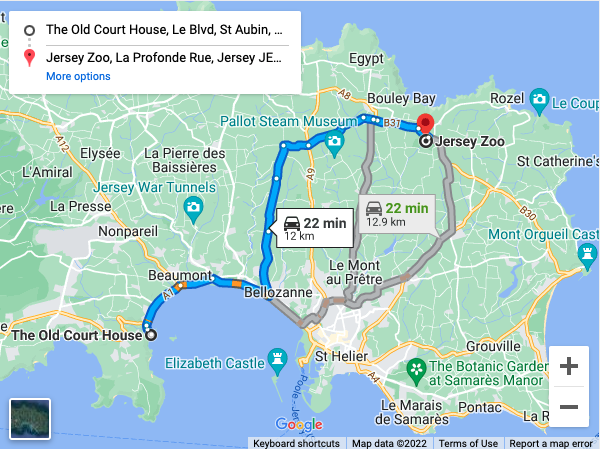 The Old Court House Inn
The Old Court House Inn is a stunning traditional pub with rooms, with history dating back to the 15th century.
Located in the heart of St. Aubin overlooking the idyllic harbour, it's the perfect base for exploring the island of Jersey, with local attractions including the Jersey War Tunnels, Elizabeth Castle, the La Mare Wine Estate and Jersey Zoo.
With 10 comfortable en-suite bedrooms, delicious pub dishes and plenty of award-winning Liberation beer, it is the perfect place to drink, dine or stay.