LibFest 2022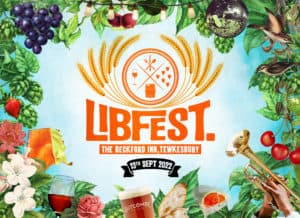 Liberation Group's First Ever Festival!
LibFest, will take place on 13th September 2022 at The Beckford Inn, Tewkesbury and is an interactive and educational event for our Head Chefs and General Managers.  It gives you the chance to meet with suppliers and watch a number of interesting and educational demonstrations.
We will also be taking the time to recognise some of the amazing people in our company so make sure you stay for our awards ceremony in the evening.
But that's not all…
Evening Entertainment!
Those local to the Beckford Inn or working as part of the Butcombe Team are welcome to join us for the evening entertainment. There will be live comedy and music, plus great food and drink! Please be aware that anyone joining us just for the evening entertainment will need to arrange their own transport and accommodation and to gain approval from their manager.
We have tried to answer all the questions you may have below, but if you have any queries please email Libfest@liberationgroup.com
FAQ's
WHAT IS LIBFEST?

LibFest is Liberation Group's very first festival!

It is for our General Managers and Head Chefs from the UK and Channel Islands. They will have the opportunity to interact with our suppliers exclusively; take part in masterclasses and watch demonstrations.

It is a chance to discover new innovations, try new products and learn more about the drinks and produce we currently offer. We will also be recognising some brilliant people in our company at an awards ceremony which will take place after the final masterclass.

It's certainly not all work and no play, it is a festival after all.

In the evening, there will be entertainment, live comedy, music, games and of course award winning food and drink.

Accommodation will be arranged for our Head Chefs and Genral Managers attending, if it is required.

WHAT HAPPENS IN THE EVENING AT LIBFEST

In the evening, from 6:00pm onwards, we welcome those who are local to The Beckford Inn or working as part of the Butcombe Team to join us at LibFest for the evening entertainment and our awards ceremony. There will be live comedy, music, games and of course award winning food and drink.

Accommodation and transport WILL NOT be arranged or provided for those ONLY attending the evening entertainment, so please bear this in mind if you are planning to attend. You will need to arrange your own transport and accommodation and to gain approval from your manager.

WHEN AND WHERE IS LIBFEST?

LibFest will take place at The Beckford Inn on 13th September 2022

WHO CAN ATTEND LIBFEST DURING THE DAY

The daytime session (10:30am – 6:00pm) is only open to our General Managers and Head Chefs

WHO CAN ATTEND THE EVENING ENTERIANMENT

We welcome those who are local to The Beckford Inn or work as part of the Butcombe Team to join our Head Chefs and General Managers for the evening entertainment from 6:00pm onwards.

Accommodation and transport WILL NOT be arranged or provided for those ONLY attending the evening entertainment. You must seek approval from your manager before attending. 

Go to https://libfestevening.eventbrite.co.uk to confirm your attendance.

IF I AM AN ACTING HEAD CHEF OR GENERAL MANAGER CAN I ATTEND

Please contact your Operations Manager to discuss this further.

WHAT ARE THE TIMINGS

Gates open from 10:30am and demonstrations start at 11:30am.

Those attending in the evening can arrive from 6:00pm.

WHAT TIME DOES LIBFEST FINISH?
WHAT IS THE ADDRESS FOR THE BECKFORD INN?

The Beckford Inn, Station Road, Tewkesbury, Gloucestershire, GL20 7AN

IS THERE A DRESS CODE?

Casual with festival flare, so think glitter, sun glasses and bright colours.

I AM A HEAD CHEF OR GENERAL MANAGER, HOW CAN I RSVP
I AM A HEAD CHEF OR GENERAL MANAGER, WHERE CAN I STAY?

If you are a Head Chef or Gneral Manager and DO REQUIRE accommodation visit – https://libfestaccommodation.eventbrite.co.uk and let us know you will be attending and that you require accommodation. Our team can then organise this for you.

I AM ATTENDING THE EVENING ENTERTAINMENT ONLY, WHERE CAN I STAY?
WHAT DO I NEED TO BRING?

If you would like to take notes, to get the most out of the day then please bring a note book.

We are providing the refreshments, so no money is required – please be responsible when drinking.

WHAT ARE THE AWARDS?

WHAT ARE THE AWARDS? 

RISING STAR AWARD 

This award is for three individuals from either front or back of house teams in both the UK and The Channel Islands. The three individuals chosen will show real enthusiasm for their role and great potential for progressing though the company.

OUTSTANDING ACHIEVEMENT 

This award is for two team members, from our Pubs & Inns. It recognises those who show great dedication to their job role and to Liberation Group as a whole. They represent the core values and behaviours of the company, and they often go above and beyond to ensure customers and guests have a memorable experience. They are a true asset and wonderful ambassador to Liberation Group.

CORE VALUES

This is a pub specific award, one pub will be selected for each of the following awards which are based on the Liberation Group core values & behaviours: Raise the Spirits, Talk of The Town, Set the Bar High and From the Heart. We are looking for the pub and team members that best represent our values and behaviours and go the extra mile to ensure customers have the most memorable experience, one they won't forget in a hurry!

PUB OF THE YEAR AWARD 

Pub of the year will be one of the winners of the Core Values Award that represents all the Liberation Values and behaviours. They standout in the local community as someone who treats their guest exceptionally and provide five star service.

A winner and runner up for each award will be decided by the judging panel and notified in advanced of the event