Home
Liberation Group consists of over 120 pubs, bars and inns with over 250 rooms, stretching across South West England and into the Channel Islands. We're very proud of our estate of local pubs, each venue with its own distinctive style and feel.
We are very proud of our Channel Islands heritage. The Liberation Brewery has been supplying the Channel Islands with its award-winning beers for over 150 years. Pat and Peter take great pride in crafting our unique and distinctive seasonal range as well, using the finest local ingredients.
We also have 17 pubs and bars across the Channel Islands, where you will always receive a warm welcome. We're very proud of our eclectic and unique pubs & bars; each one with its own distinctive feel and menu focused on what works best for the local area. Our team of Chefs from all over the islands collaborate to design, create and develop our award-winning food offering. Utilising the finest ingredients including our own Liberation brewed beers, locally sourced meat, fresh produce and delicious Channel Islands seafood. With our over-arching food brief to create a good value, innovative and exciting menu of dishes.
Based in the South West, our sister brewery Butcombe Brewing Co. has a state of the art brewery in Wrington, Bristol and over 60 pubs in Bath, the Cotswolds, Somerset, Bristol, Dorset, Wiltshire, the Mendips, Gloucestershire, New Forest, Bournemouth, Oxfordshire, and Hampshire.  
Most recently, we were fortunate enough to win the much prized award for Best Premium Food Offering, Best Managed Pub Company and Best Accommodation operator at the coveted Publican Awards.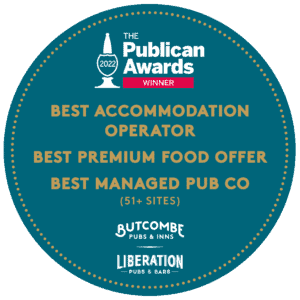 Liberation Brewery
Against the odds, for over 150 years we've continued to brew beer in the Channel Islands for the Channel Islands. We've weathered a lot over the years but we are still doing what we do best. Still making award-winning beer.
With all the knowledge we've accrued over the years, the thing that continues to drive us is brewing great beer and providing great experiences for our customers. Pat and the brewery team take great pride in crafting unique and distinctive beers using the finest ingredients.